Well it's that time of year again. It is cold, everyone is skint, and on a health kick. I have numerous clients that went vegan for January (Veganuary) which was great. Hopefully they end up making the switch permanent. One obstacle many say prevents them from switching to a vegan lifestyle is that it's expensive. So this blog is to educate people about living as a vegan on a low budget. Don't get me wrong, this shop was not completely based around wholefoods. However, that isn't the goal of the blog, it's to show that anyone can live on a vegan diet and it doesn't have to be expensive. There are foods that I brought that I wouldn't usually eat but to eat the way I usually would it would never have been done on the budget I given myself.
Eating Vegan on a Budget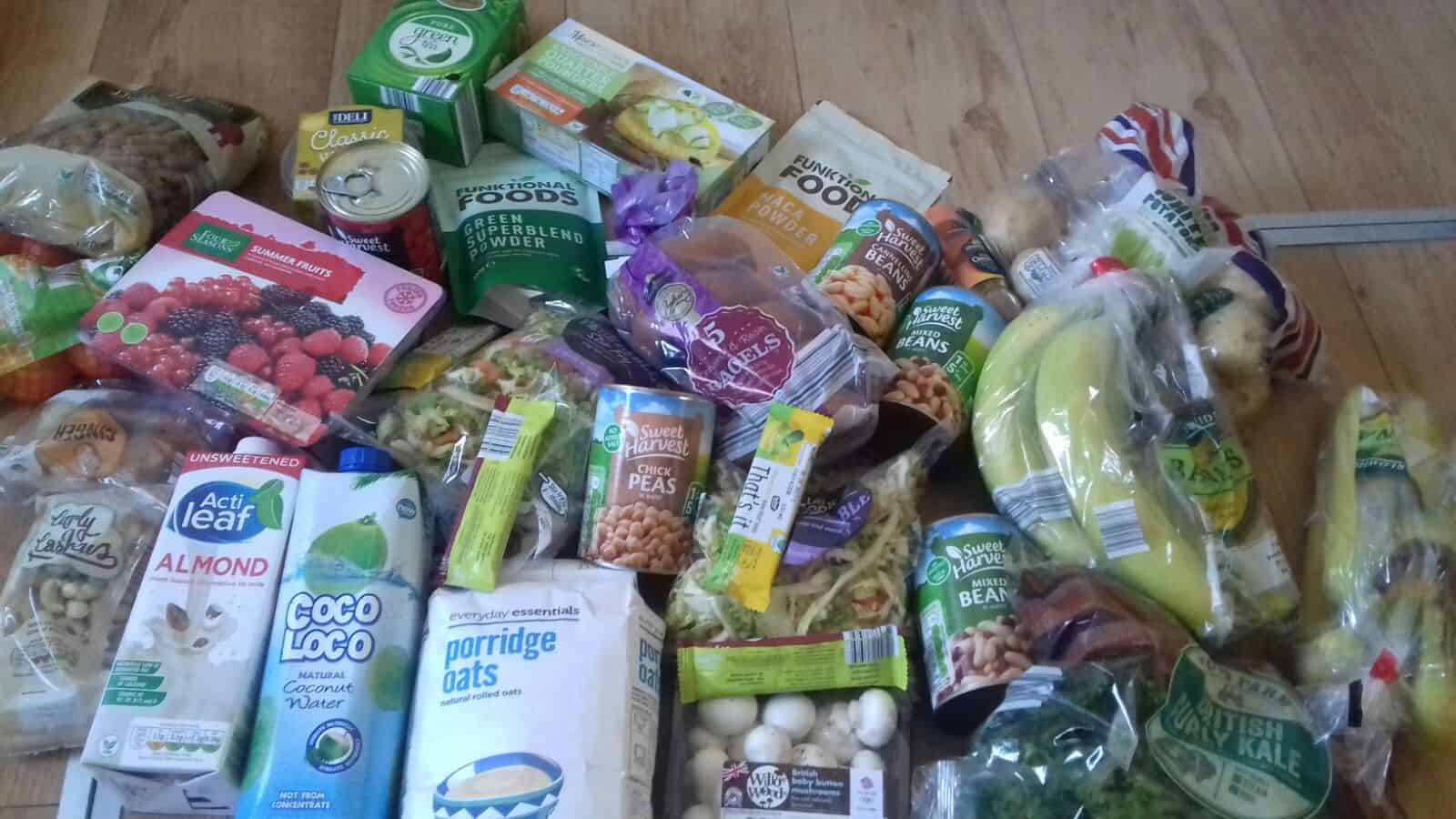 So I set a budget of £30.00. I was a little worried that I wouldn't have been able to do this on a budget that low but I surprised myself. In total I spent £29.03. I managed to live on this food for a week. Don't get me wrong some meals were boring and similar. However, I achieved what I set out to. So here are some steps to follow for eating vegan on a budget.
1) Choose your shop wisely–  This is going to be crucial for sticking to the budget you set yourself. With my budget I would not have been able to shop at my usual supermarket which is Tesco. The supermarket I chose this time was Aldi. It has some great offers on fruit and vegetables and has a lot more variety of foods than I thought. It even sells superfoods now such as Maca powder and supergreens blends. I managed to fit this into my budget as well which was a bonus as I can add these to my smoothies. I purchased things like bagels and pasta as they are cheap and high in calories. Pasta allows for so many meal options as well so a great food when sticking to a budget. Pasta and bagels are the foods that I wouldn't really eat on a regular basis however,  they are great when trying to eat on a low budget. If you are going to shop at the more expensive supermarkets then always check out the reduced sections. They often have reduced fruit and vegetables that will be fine for smoothies and stir frys.
2) Make meals from with ingredients you already have – We all have things left lying around in our cupboards and freezer that can make some tasty meals. Taking a guess I would say that most people would have some rice, beans and frozen vegetables lying around. Add some spices to these ingredients and you can make a great meal at no extra cost. I had some oats and dried fruit left over from months ago so I made some flapjacks that were convenient for snacks at work. Be creative with the foods left over in cupboards ect and you will be surprised with what you can make.
3) Make a list – Making a list and sticking to it are two completely different things. It is so easy to go off track when walking round the supermarket with the offers that you see. Trust me with a low budget one extra purchase can take you over your budget. Make a list and stick to it. Plan meals ahead so you know what you are getting from the supermarket. You don't want to be buying on impulse as the cost will soon rack up.
4) Leftovers for lunch – I have been doing this for years but when trying to live on a budget it is essential. Whatever you cook on the nighttime can be saved for the next day. Throwing away food is a huge pet hate of mine. Considering that some people in the world are starving to death and the UK and US waste so much food is sickening. I make a smoothie at the end of the week with what ever I have left over. I'm not going to lie it doesn't taste great but if it saves money and wasting food then it's worth it.